How To: Small Business Network Setup
Welcome to another edition of
How To
series on
Secure Networks ITC
. In this article you are going to learn the necessary steps on
how to set up a small business network with one server
. In addition, our network specialists will introduce network equipment you will need, network security procedures you need to implement to stay safe online and cover topics like file and folder sharing and managing workgroups.
No Network – No Business
A business ecosystem consists of people within and outside the company, data and communication channels. If you want to have flawless communication between employees and clients you need a reliable network that will transfer data and easy communication not just between people but also with different equipment in the office –
servers, workstations, printers, IP phones or fax machines.
Remote work, access data from anywhere, low operating cost, efficient communication using VoIP phones are just a few ways to show how you can benefit from the
efficient small business network
.
Network Equipment for Small Business
The best way to start this small network setup guide is to cover some basic terms and introduce hardware you will need. Since this guide is not meant for IT professionals we'll explain some basic terms you will need to understand before you order your gear online.
Router
Router for computer networks is a device that joins or ties multiple networks together
. Router finds the best route for data to travel. Furthermore, you can set the router to decide computer priority and set security measures and standards. Thus, it is one of the crucial devices in network system meaning that you can't build small office network without at least one router. The router has a
CPU, memory and I/O interface
. Memory has embedded operating system or firmware. A few years ago, routers were devices used only for business networks. Today it is very common to use a router when setting up a home network as well. A business line of routers has a built-in firewall with anti-spam and anti-virus features. In comparison with home routers, they have the ability to set up virtual private network
VPN
server and enable secure remote work. We recommend using a wireless router. The average range for wireless routers is about 100 feet. If you think that is not enough, you'll need additional
access points
. Consider using client WIFI adapters as well. They look like USB memory sticks with a small antenna.
Expert recommendation
: If you want a quality router that will last for several years, go with
Cisco
. Models like
891 ISR
or
4221 ISR
will do the job for most small office networking. They are high-performance devices with the highest level of security.

Cisco 891 ISR
Ethernet and Wi-Fi, in one appliance
Integrated 802.11n WLAN access point
Enforced security policy with intrusion prevention
Security hardware acceleration
Next-generation encryption for secure network
FlexVPN
Another consideration: Choose a WIFI Router Standard. We assume you will have both wireless and wired network in your office or Hybrid Office Network and take the advantage of both network types. If you choose to use WIFI routers you'll have to make another important decision – choose networking standard. New desktops and tablets support 801.11n standard, but even if you have older devices with b or g wireless standard you won't experience issues with connection, but they can slow down office network. If you need to send large multimedia files, consider using Ethernet connection. Wired connection is usually more stable than wireless one. Ethernet cables can be Cat5, Cat6, Cat7. Choose standard depending on devices in the network. Cat5 supports just 10/100 networks. Cat6 and Cat7 are a good option if you need to transmit data over a long distance which is hard to believe for someone who is building small office network. As a business, you will probably go with both wireless and wired office network. Keep in mind that wired network is much easier to secure. But if you need to do wiring on your own, it can be tricky, especially if devices are in separate offices (rooms). Wireless office networks are way flexible, easy to install and maintain.
Switch
Another device without it's impossible to build small office network is a switch. The switch in networking connects devices like server, workstations, laptops or printers on the same network and allow multiple devices to communicate and share information. The switch can be managed or unmanaged. Unmanaged one doesn't need to be configured and they can be added to the network right out of the box. Managed one, on the other hand, are packed with some rather cool features which allow you to configure security and other things both locally and remotely.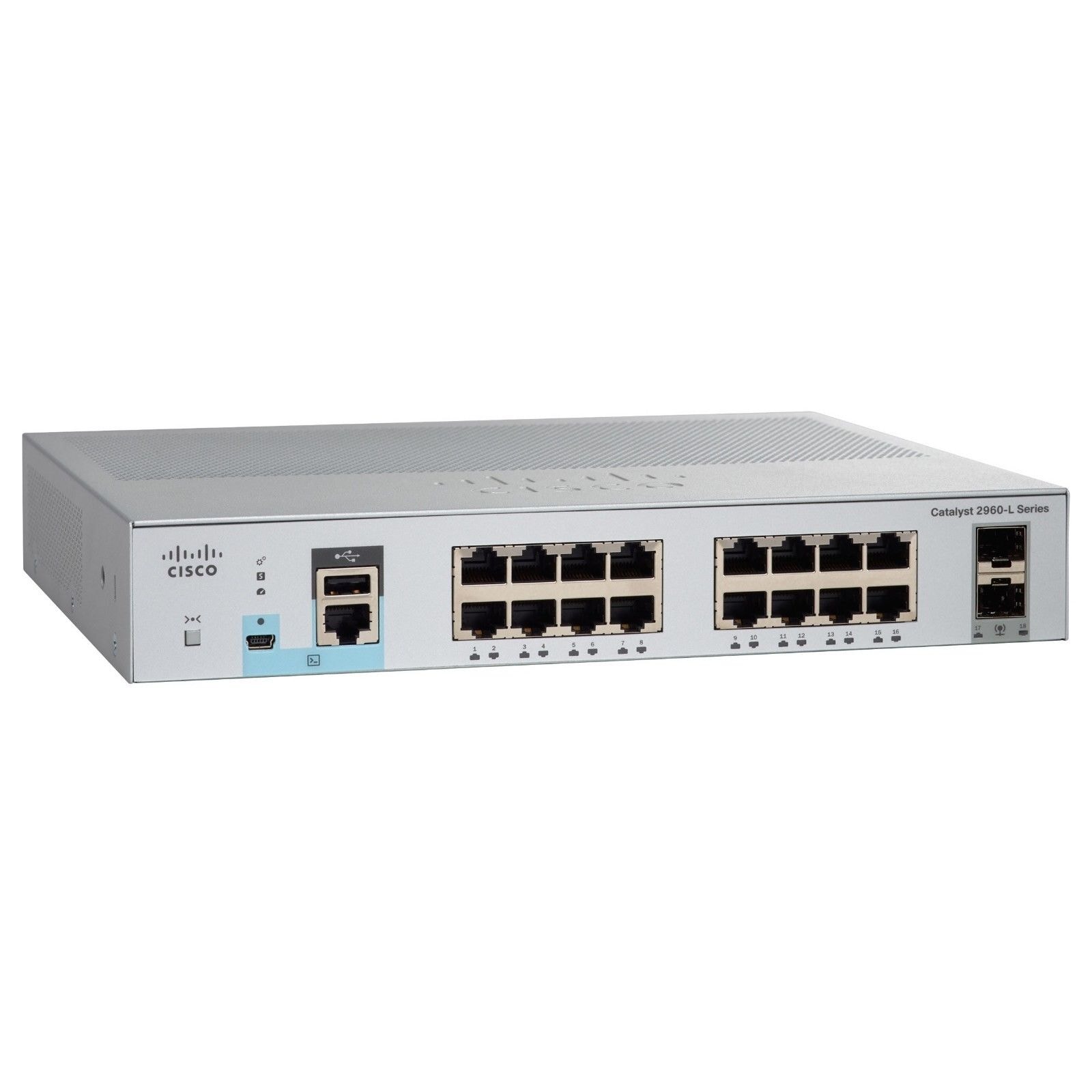 Catalyst 2960-L
ARMv7 800 MHz CPU
512 MB DRAM
256MB Flash Memory
10 Gbps Forwarding bandwidth
RJ45 Ethernet
USB mini-B
Expert recommendation
: Once again we must recommend trusted brand and device with reputation. Cisco line of
small business switches
both cloud and on-premise managed are a solid foundation for every small office network. No matter what series you choose it will provide you with
speed, reliability, and ability
to adopt latest standards for mobile networking.
Switch vs Router
They are very similar devices, but the router has an additional feature to send data between different networks. Switch on the other hand is limited to communication within the same network. Both are cornerstones of the business network no matter if you are setting up a network with one or several servers and workstations.
Firewall
How to properly set office network without mentioning a firewall. Firewall is usually software that prevents malicious data packages to get inside private network from the public Internet and vice versa. A firewall can be found in many network devices. There are many types of firewalls, main are host-based and network-based firewalls. Also, it can be a hardware device. No matter what, the firewall is the first line of defense in network security for decades. the It's a MUST if you want to set up small office network free of viruses and spam. The firewall allows you to see operating systems within network, users and their devices and make prioritization and apply security custom policies and rules to encrypt network traffic.>
SonicWall Firewall TZ series
Great for small networks
Anti-malware, intrusion prevention, filtering
Native SSL VPN secure remote access
Gigabit Ethernet ports
SSL, TLS and SSH decryption and inspection
Integrated 802.11ac wireless (optional)
Expert recommendation
:
SonicWall firewalls
are a great solution for small office networks. A broad range of products and fantastic quality are reasons to consider this manufacturer. No matter of model, entry-level TZ series or high-end SuperMassive series, they all offer great control over network, speed and some unique security features for the reasonable price.
Small Business Network Server
OK, main player steps into the game – SERVER. It is the essential tool in modern business. There are many articles online that can help how to choose a server for small business. Cloud solutions are very interesting these days but here we'll cover on-site (physical) SMB servers. How to Choose Small Business Server – Buying Guide for 2020 and Beyond Sometimes small server looks the same as a desktop computer. The desktop is designed to accomplish simple tasks like writing in Word, sending emails, Excel calculations and browsing the Internet. All this is done by user interface within the operating system. The small server, on the other hand, is developed to deal with more complex tasks. Some to name are database management, shared calendars, massaging, printer services, sharing folders and files, set VPN and many other. Plus, they are more reliable compared to desktop computers. So, don't ask your self "Do I need a small business server"? The right question is "What kind or what type of SMB server my company needs"? Cloud-based Server or Local Server Cloud solutions are very popular, prices are going down and there is a lot of competition within the industry; we can say that we'll get more for less money but if you run small or medium size business you can still be sure that on-site server will do the job perfectly. For less than $1,500 you can have a fantastic small server that can handle all your IT needs. Scalability Make plans for the future. Choose the server that can be easily updated with more RAM memory, CPU or additional high-capacity hard discs. Additional questions here are software and OS cost, do you need internal optical drive, RAID controller, etc. The server needs to follow business growth so choose smartly. Support What kind of server support you'll get? Support is crucial when the server goes down for one or another reason. To prevent server issues, scheduled and preventive maintenance and support are very important. Consider support cost as well. Virtualization Virtualization will eliminate the need for an additional physical server. To optimize workload of the server, using a virtualization software, you can create virtual servers by partitioning your physical server. Every virtual server can run different operating systems and applications. Does your server allow virtualization?
5 Questions to Ask Yourself When Choosing SMB Business Server
Are you going to use the server for data backup, emails or file sharing?
Are you going to host a website on your server?
What about applications and Oracle or MySQL databases?
Do you need to have remote access to the server?
Do you intend to install IP phones in the offices?
Of course, you don't need one server for each service. Many servers can manage multiple workloads at the same time. Still, these questions need answers before you buy a server. Experts recommendation: The best SMB servers don't have to be expensive and robust. There are many solutions from Dell, HP, Lenovo, and Asus. Secure Networks ITC server specialist always recommend DELL as the first choice for small and medium businesses. You don't need server room for this kind of server, they don't require additional cooling, racks or similar things.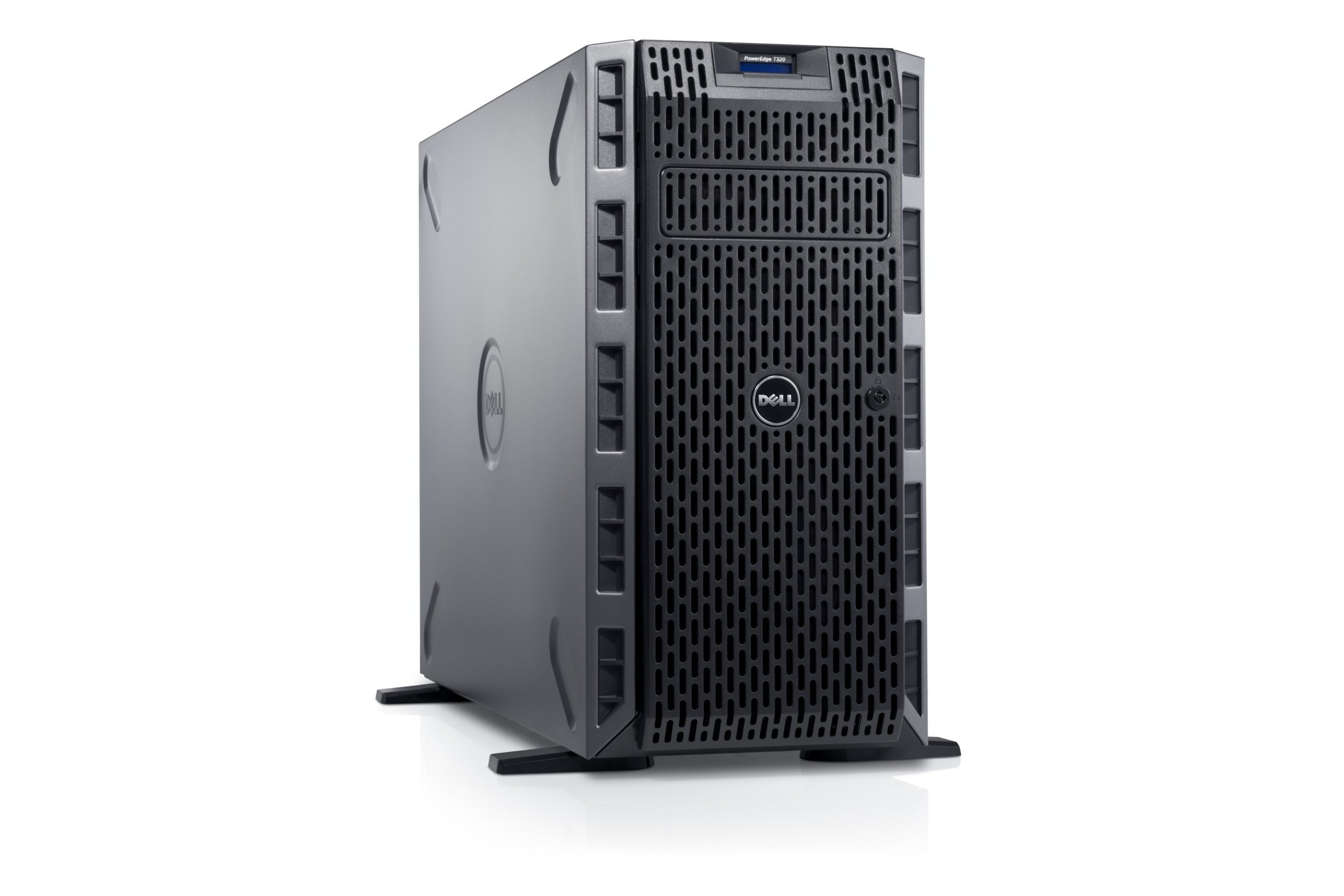 PowerEdge T630
FROM $1,549.00
Good value
Xeon E5 power
High storage potential
Quiet
Low power consumption
Dell EMC PowerEdge series
series is perfect for SOHO (small and home offices) and SMB. With 1TB SATA hard drive, 4GB of RAM memory and Intel Xeon scalable processor is capable to successfully handle any workload today and in the future. You can use your smartphone for
server remote administration
. Dell has many special offers. Check them online and maybe save some bucks.
Small Business Network Design
After getting familiar with equipment let's proceed with small business network setup diagram. Below is an example of small office network with one server. Along with server, you have firewall and router. As you can see firewall is the first line of defense, the icon next to Internet. You can use another firewall after WIFI access point to protect all laptops, desktops or smartphones who access office network wirelessly. This is just a simple example of LAN (local area network) infrastructure. You can always customize and make it suitable for devices in your company. Some of the networked computers can be easily replaced with the printer, fax machine or IP phone.
In this office network diagram, we did not add modem since your Internet service provider (ISP) will provide and setup modem for you. The network topology is crucial for the reliable and redundant network. There are other things to take into the consideration; IP addressing and subnet management, choosing internal domain names, data and network separation for better performance, licensing requirements, etc. Don't forget to change router name and password after you set up and connect modem and router. All manufacturers have generic or default information for router access. Change them to avoid intrusion into your network. When finishing WIFI network setup, create a password and prevent unauthorized users connect to the business network. If you are running a restaurant or similar business, you can set dedicated WIFI network for guests and visitors only.
Share Files & Folders on Small Business Network
After you have set up office network it's time to set options that will allow network users to share files and folders or printers. That was the main reason to set up office network in the first place. This guide is for
Windows 10 users
, but very similar procedure stands for other Windows versions. For other versions visit
Microsoft support portal
.
Turn on Sharing Options
– When you connect to the network for the first time set sharing options manually for network discovery, network sharing, file sharing and printer sharing.
Network Discovery
– Network discovery allow other users on the network to see your computer and vice versa. You can turn off network visibility or set Custom visibility. Here is how to turn network visibility manually:
Right-click the Network icon on the right-hand side next to the watch
Open Network and Internet Settings
Now click Sharing Options
Click Turn on Network Discovery
Click Save Changes
Path
:
Control Panel\Network and Internet\Network and Sharing Center\Advanced sharing settings
(see images below)
File and Printer Sharing – Follow the same procedure for file and printer sharing. At the end click Turn on file and printer sharing. To share file or folder press right mouse button and click Share With. Now select people that you want to share file or folder with. Important: Use file and printer sharing options only when you are certain that other computers are virus-free, and you can trust them.
Setup and Manage Workgroups
When you set up small office network Windows will automatically create Workgroup and give her a name. A workgroup is a group of computers within the same network that are connected in order to have sharing options, files or printers for example. They are similar to Homegroups.
To find, join and edit existing workgroup:
Right click on Start
Click System
Click System Info in the upper right corner
Under Computer name, domain and workgroup settings click Change Setting, see image below
Here you can change the computer name and join domain or workgroup, see image below
To apply settings, you need to restart your computer.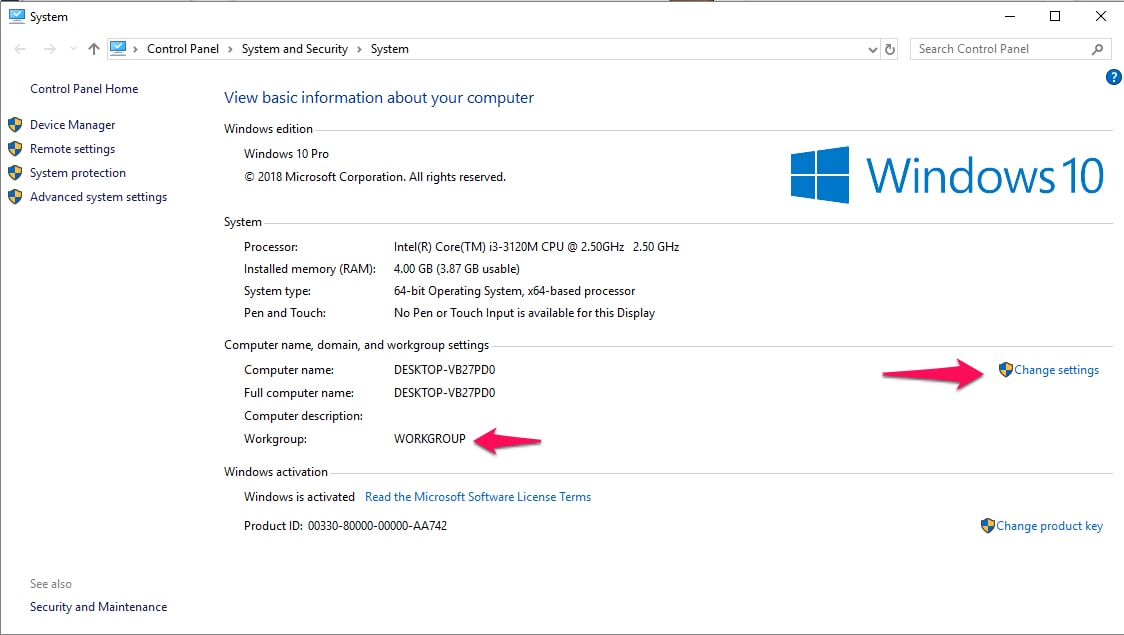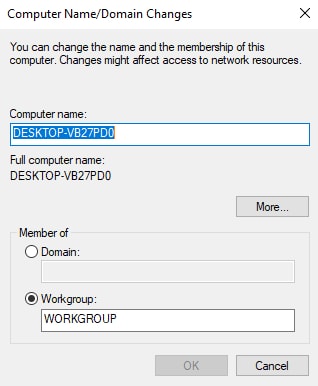 Small Business Network Setup Key Takeaways:
Plan and prepare for future needs
Document everything
Invest in good equipment
Buy server you really need
Don't rely just on wireless technology
Prepare for the worst – create a BACKUP for fast recovery.
Cost of the small business network shouldn't be high. You don't need expensive network components you will never use. Choose wisely and always think about infrastructure scalability. As someone already said the network is the bloodstream of your company. It has to be toxic-free. Keep that in mind when you start building your business network.
Do it Right from the Beginning
This was a very basic guide on how to set up a small business network. If you think it is too complicated for you or you don't have "in-house" IT staff then outsource to network specialists. Secure Networks ITC is Microsoft certified
San Diego IT Support company
that will set up reliable, flexible and high-performance small businesses network you can rely on for years. Call us or contact by the forms below and check if we are the perfect fit for your company needs and how our
IT Consulting San Diego
services can increase your productivity.