San Diego Managed IT Services
We are a local MSP providing strategic and scalable
managed IT for small businesses in San Diego
Ever dream of a world where your business operates flawlessly, with not a single IT hiccup disrupting your growth? Picture a day where every click takes you exactly where you want, no delays, no data breaches, and no network downtimes. A utopia, you think? At Secure Networks ITC, we make that dream your reality. Call us today at (858) 769-5393, and let's bridge the gap between your current reality and your dreams. Allow Secure Networks ITC to be your partner in progress, transforming the way you handle IT - forever.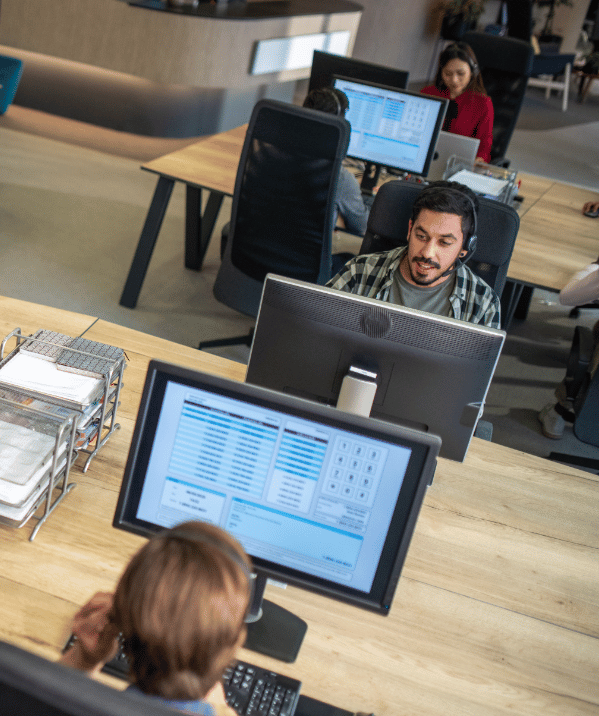 Your focus is growth, innovation, and bottom-line results, but the constant tech issues can become a draining distraction. But what if you could eradicate those hurdles and channel all your energy into what truly matters - your business? That's where we come in. We are the silent partners in your journey, ensuring your systems are secure, up-to-date, and working in harmony, all while you concentrate on propelling your business forward.
When your business is thriving and your IT demands are evolving, our 24/7 operational support, fortified by a commitment to zero downtime, becomes the game-changer you need. We operate on a transparent, flat fee per seat per month managed IT support, providing you with the certainty to budget effectively, free from the worry of hidden fees or overcharges. We're here to ensure your technology supports your vision every step of the way.
Managed Services We Provide
THE NUMBERS SPEAK FOR THEMSELVES
Statistics
---
Increased Uptime
Businesses that transition to managed IT services report an average of 98.6% uptime, significantly reducing operational disruptions and enhancing productivity.
---
Financial Savings
Small businesses can save up to 40% on their IT costs with managed services when compared to traditional IT support, thanks to predictable monthly costs and proactive problem prevention.
---
Fewer Security Incidents
With the average cost of a small business data breach estimated at $200,000, managed IT services' proactive cybersecurity measures are no longer a luxury but a necessity. 85% of small businesses using managed IT services reported fewer cybersecurity incidents.
These numbers underscore why more and more businesses are shifting towards managed IT support. It's more than just a service; it's an investment in your future success. If you're ready to join the ranks of these forward-thinking businesses, feel free to
contact us with any questions
.
MUST READ
The Essence of Managed IT Services
Your business thrives when technology is seamless and reliable, but what happens when IT issues rear their ugly heads? Lost productivity, frustrated employees, unhappy customers - the list goes on. The old way of dealing with these issues, hourly IT support, is like a band-aid on a wound that requires stitches. It might stop the bleeding for a moment, but without proper care, it's bound to worsen. At Secure Networks, we're breaking the cycle with our managed IT support services. We believe prevention is better than cure. Why wait for problems to arise when you can stop them from occurring in the first place? With a monthly managed IT package, we proactively monitor and manage your systems 24/7. This approach leads to fewer problems, less downtime, and predictable costs. The result? Your IT becomes an enabler of growth rather than a hindrance. You might be thinking, "But won't this be more expensive?" While it's true that managed services come with a fixed monthly cost, consider the expenses associated with unexpected IT issues in the pay-as-you-go model. The downtime, the loss of business, the damage to your reputation - these invisible costs add up and can surpass the predictable cost of managed IT support. Don't let the fear of change hold you back from making a decision that can propel your business forward. Give Secure Networks ITC a call at
(858) 769-5393
today. Let's move your business from a reactive stance to a proactive one, ensuring your technology acts as a launchpad for success, not an obstacle.
I've worked with Secure Networks since 2014. They've taken our parish from a tiny desktop file server to a fully realized network with our own server, managed email, security system, WIFI network and VPN solutions for remote users. While their technical skills are always amazing, what I truly appreciate is their responsiveness to every question, no matter how small, and every emergency, no matter how large. This is a company that goes above and beyond to care for their clients. They truly do care, and that's a rare commodity in this day and age. Although I am director of a small network, they ensure I never feel "small". Their team of engineers is right beside me for every new challenge. Live streaming? Done. Expand WIFI in 1918 building and make it reliable. Accomplished. Create safe subnets and security protocols. Yes! Help desk available for users with questions? Absolutely. Save us when a user clicks on a very bad email? Done. You can't go wrong with Val and his team.
Why Choose as Your MSP in San Diego?
By choosing us as your managed IT services provider, you're partnering with a team that values:
Responsiveness: With our 24/7 support, we ensure that your IT issues are resolved swiftly, minimizing downtime.
Expertise: Our team of skilled IT professionals is equipped with the knowledge and experience to handle any IT challenge your business may face.
Strategic Partnerships: We maintain relationships with leading technology vendors to provide you with the most cutting-edge solutions available.
Local Presence: As a San Diego-based company, we're not just your IT provider, we're your neighbors. Our proximity allows us to offer personalized service and quick onsite support when needed.
HOW WE DO IT
Our Approach to Managed IT Services
Choose Secure Networks ITC, where we transform your IT from a challenge into an advantage.

Discovery & Assessment
We start by diving deep into your current IT infrastructure, identifying your needs, and pinpointing potential vulnerabilities.

Tailored IT Strategy
Next, we craft a custom IT strategy that aligns with your unique business goals, designed to optimize your operations and fuel your growth.

Implementation
Our team implements new strategy with minimal disruption, seamlessly integrating our solutions into your existing systems.

Proactive Management
We shift to proactive mode, providing 24/7 monitoring of your IT systems. We spot issues before they become problems, ensuring your operations never miss a beat.

Continual Optimization
Our commitment doesn't end there. We constantly reassess and fine-tune your IT strategy, keeping you on the cutting edge of technology trends.

Reliable Support
Last but not least, we're always there when you need us. Expect prompt, dedicated support to keep your IT systems running smoothly.
Powerhouse Partnerships for Premium Managed IT Services
At Secure Networks, we're not a standalone force. We strategically align with global IT leaders to bring your business the very best. Dell and Lenovo power our top-of-the-line hardware solutions, while Microsoft and VMWare fortify us with cutting-edge software. In our fight for cybersecurity, we're backed by industry giants Bitdefender and Avira. These partnerships not only amplify our managed IT services but they also promise you the best market prices for your IT investments. With us you're gaining more than superior IT support – you're entering a realm of high-quality, cost-effective business solutions.

Industries We Serve
At Secure Networks ITC, we recognize that each industry has unique needs and challenges when it comes to IT. That's why we specialize in providing custom-tailored managed IT services for a broad spectrum of sectors. We've garnered extensive experience and in-depth understanding of the specific IT requirements and regulatory landscapes across these industries:

Insurance
We help insurance agencies manage massive data volumes, safeguard sensitive client information, and ensure compliance with industry-specific regulations.

Nonprofits
We understand that nonprofits need reliable and cost-effective IT solutions. Our services streamline operations, improve communication, and enable effective data management, allowing you to focus on your mission.

Financial institutions
We fortify the IT infrastructure of financial institutions, protecting against cyber threats, ensuring data integrity, and maintaining compliance with stringent regulations.
---

Healthcare
We aid healthcare providers in navigating the complex IT landscape, from HIPAA compliance and EHR management to cybersecurity.

Hospitality
We assist hotels, restaurants, and other hospitality businesses in enhancing guest experiences through seamless IT operations, from online booking systems to secure payment processing.

Education
We support educational institutions in harnessing the power of technology for improved learning experiences, providing secure virtual classroom solutions, data management, and cybersecurity.
---

Accounting
We help accounting firms manage sensitive financial data, ensuring the integrity, confidentiality, and availability of their IT systems while meeting compliance requirements.
---
LET US HELP YOU CHOOSE
Managed IT vs. Traditional Hourly IT Support
| | Managed IT Support | Hourly IT Support |
| --- | --- | --- |
| Pricing | Fixed monthly or annual fee | Pay-as-you-go based on hours worked |
| Predictability | High (consistent costs) | Low (costs can vary greatly each month) |
| Support Availability | 24/7 | Typically during business hours, emergency support might be extra |
| Scope of Services | Comprehensive (includes monitoring, maintenance, support, etc.) | Usually limited to specific tasks or issues |
| Response Time | Generally faster (SLAs in place) | Might be slower, based on availability |
| Proactivity | Proactive (regular monitoring and maintenance) | Reactive (action is taken when an issue arises) |
| Strategic IT Planning | Included (ongoing strategy and optimization) | Not included |
| Business Alignment | High (services are tailored to align with business goals) | Low (focused on issue resolution, not alignment with business goals) |
| Stability | High (consistent support and budget) | Can be low (fluctuating costs and reactive support) |
| Scale | High (services can grow with the business) | Can be challenging (each new issue requires separate attention) |
| Security | High (proactive threat detection and resolution) | Can be lower (issues are addressed after detection) |
Get Quote for Fully Managed IT Services in San Diego
We have a proven track record of ensuring seamless operations while reducing costs and fostering growth for local businesses. Our locally-based team understands the unique business environment in San Diego, and we've crafted our services to cater specifically to your needs. Whether you're a small startup looking to scale or an established enterprise seeking to optimize your IT operations, our managed services will give you the competitive edge you need. Call us today or fill out the form, and our senior IT consultant will get back to you shortly. Thank you for considering our services.
Call Now Button