13 Legit Steps to Establish High-Level Business IT Security
The common misconception about small businesses is that they don't need advanced cybersecurity protection.
But they do.
The development of the art of hacking doesn't cease, and the attacks are usually targeted at small businesses since it's assumed that their systems and IT infrastructures are poorly protected.
If SMBs (small and mid-size businesses) become affected by cyber threats, they are at risk of losing a lot of profit and reputation. Therefore, they need to apply adequate business cybersecurity measures to safeguard their data and protect it from being exploited.
If you are a small business owner, don't click the back button, but discover why your company may be at risk of cyberattacks.
What are the Common Threats to Cyber Security for Small Business?
The Internet has significantly impacted the development of small businesses. Although no company could perform even the basic tasks without a proper connection, it still opens the door to something called cybercrime.
Any device with an Internet connection can be infected with viruses and malware, the most common forms of cyberattacks. Even the latest versions of antivirus programs can fail to detect malicious software, letting it enter your system as if it were an entirely harmless file.
When something like that happens, you're in trouble.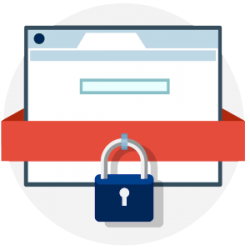 It's vital to understand the common types of cyberattacks that are targeted at small businesses. That way, you can recognize and prevent them from jeopardizing your system.
The most common small business cyber attacks are:
Phishing
The cases of phishing attacks happen quite often. They're usually hidden inside email attachments, which hackers send to users whose information they want to steal. According to some sources, more than 7.000 companies are hit by phishing every month.
Phishing happens when hackers want to trick the user into clicking and opening an email attachment, which contains a malicious code or a link that leads to a fake webpage that asks you to enter your sensitive data.
Company employees should be able to recognize a phishing email. Even if it seems authentic, there is always a detail that reveals its real background – for example, you may see that malicious link leads to the URL "pyapal.com," instead of "paypal.com."
You may also note that e-messages contain typos and lousy sentence constructions, which is another tip for recognizing the email that doesn't come from a credible source.
Phishing emails usually notify you that your company has received a certain amount of money through donations and grants, which is why employees usually open the attachment and leave bank account data, curious for more details they'll never get.
Malware
Malware comes in different forms, and it encompasses a wide range of viruses and threats that can damage a computer, network, or server.
It can be hidden in a file you downloaded from the web, you can let it in your system via portable devices (USB flash drives or CDs), or it can be a part of an email attachment. Depending on its grade, it can more or less severely affect your small business security.
Ransomware
Ransomware attacks are considered the cruelest ones. They fall under a specific type of malware that infects the system and encrypts the data, refusing to give you back access to your computer and information until the ransom is paid.
However, no one can guarantee that you'll retrieve your data even if you pay the ransom to the hackers.
Ransomware is mostly delivered through phishing emails and it takes advantage of unpatched vulnerabilities that exist in software.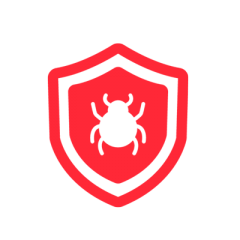 Inside Attack
Inside attacks happen within the company, and an employee with administrative privileges usually performs them. Such an employee will misuse the credentials to get access to sensitive company information, which will later use for some fraudulent activities.
Many companies went through a huge loss when their former employees, who left the organization on bad terms, took advantage of the access they had and stole the critical business data.
Therefore, all organizations are advised to revoke all access to data when an employee quits.
Man in the Middle (MitM) Attack
Man in the middle (MitM) attacks are made by hackers who install malware on unsecured Wi-Fi, waiting for parties to start exchanging valuable information via that network.
It can happen when employees need to complete a task outside the office. If they connect to an unsecured public Wi-Fi network to, for example, conduct an important transaction, a man in the middle will interrupt the flow of the information, and steal the critical data such as credit card number.
How to Implement a Cyber Security Business Plan?
The mentioned cyberattacks are just a small part of a larger group of threats that continually develop and upgrade their potential.
Every business can become a victim of advanced cybercrime, especially smaller companies that usually don't have a professional IT support team that monitors their networks and fixes potential vulnerabilities that exist inside the system.
To implement a successful plan to enhance cybersecurity for small business, make sure you follow the next steps:
1.      Train Your Employees and Raise Their Awareness of Business Network Security
As a business owner, your task is to introduce your employees to the most critical cybersecurity practices and policies.
Although their job might have nothing to do with cybersecurity, you must ensure they know how to respond and prevent cyberattacks and data breaches.
Education of the employees may be the most important thing in enhancing cyber security for small business, which is why organizations should provide regular training for firm members at least every three months, where they can become familiar with the latest threats and ways of protection from cybercrime.
2.      Use Security Software to Protect Information, Computers, and Networks
The latest versions of antiviruses, browsers and operating systems can provide quite a satisfactory level of defense against malware, viruses, and other types of advanced threats aimed at affecting your small business Internet security.
Don't forget about regular software updates and set antivirus scans to run after each update – that way, you can have a complete insight into your network security.
3.      Use Strong and Randomly Generated Passwords
To protect your business network security, you should make sure your passwords are strong and not so easily guessed.
Your password should meet the following requirements in order to be considered strong:
It needs to be composed of at least 10 characters
It should have at least one uppercase letter (O)
It should contain at least one lowercase letter (a)
It should have at least one number (1)
It should have at least one special character (!)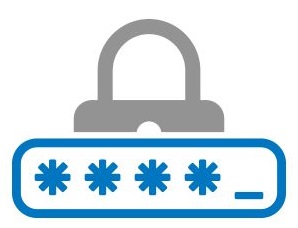 The best way of crafting a password that no one can crack is the installation of a password manager software, which will generate a random password that contains all the above-mentioned elements.
Such passwords can be shared within the organization, and you'll still be the only one who knows them (and you don't have to remember them!) – your employees will only get the hidden part (for example: ••••••••••).
You should generate different passwords for different accounts, and you should change them from time to time to ensure your business network security is up to date.
4.      Enable Multifactor Authentication
Even if you have the most robust password, enabling a multifactor authentication can ensure a more enhanced cyber security for small business.
Multifactor authentication usually requires additional information in order to access your account. You may be asked to unlock your phone and verify that you're the one who's logging in, you may need to enter the code sent to your phone or do something else to confirm your identity.
Many vendors that handle sensitive data offer the possibility of multifactor authentication, and you're advised to take advantage of it.
5.      Protect Your Wi-Fi Networks
Although commonly used and efficient, wireless networks are quite prone to vulnerabilities. You could see the example of a MitM attack earlier in the post – that can happen even inside your business Wi-Fi network if it's not adequately protected.
Accordingly, your network should be encrypted with a VPN, which will hide your physical location and hide the data you send to websites at the same time. Besides, you shouldn't forget to secure your network with an adequate password, using the most common Wi-Fi security, such as Wired Equivalent Privacy (WEP) and Wi-Fi Protected Access (WPA).
6.      Protect Your Internet Connection with a Firewall
A firewall is an essential tool that protects your network while you're browsing the Internet. It monitors and controls incoming and outgoing network traffic, distinguishing between trusted internal and external networks, making sure your system doesn't get infected by viruses or malware.
There are many forms of the firewall. It can be hardware, software, or both – here are the most common types of it:
Proxy Firewall
Stateful Inspection Firewall
Unified Threat Management Firewall (UTM)
Next-Gen Firewall (NGFW)
Threat-Focused NGFW
Firewalls are also essential if your employees work from home. Namely, their systems must have adequate protection, such as the mentioned tool, in order not to put your sensitive data at risk of being exploited.
7.      Secure Your Endpoint
Your endpoint needs to be protected with adequate sever antivirus, which mostly includes features such as intrusion prevention, sandboxing, firewall, and other vital options to provide your server with the highest layer of safety.
When your server is infected by virus or malware, your entire company is at risk of losing profit since it may prevent it from operating until the problem is solved.

8.      Protect Your Mobile Devices
Keeping business data on your phone means that you need to implement a specific plan that will protect your mobile device, as well.
Ask your employees to protect their devices with passwords and make sure they all use a VPN when connecting to public networks. Also, require them to report any equipment theft or loss – the damage may be prevented in that way.
9.      Do Regular Backups
It's critical to do regular backups of your sensitive data – all the word processing documents, e-spreadsheets, databases, financial files, HR documents, and other files essential for your business must have a copy that'll be store either offsite or in the cloud.
You can easily retrieve those copies in case you lose the documents due to cyberattacks or data breaches.
10.      Create User Accounts for Each Employee and Prevent Physical Access to Workstations
You're advised to control or prevent access or use of business computers by unauthorized personnel.
When unattended, laptops and computers can be easy targets for loss or theft, which is why they should be protected with strong passwords. Also, make sure each employee has their own account, which they will use to log in to business platforms and access data they need to complete their duties.
However, all the administrative privileges should only be given to trusted IT team and key staff.
11.      Limit Authorized Access to Software Installation
It's not recommended to permit your employees to install software on their own, especially if it's about a free version of the program created by an untrusted developer.
Even if they need particular software to perform their jobs, they should ask you for permission first.
Newly released software is prone to zero-day attacks, which can hardly be identified by antivirus programs since they're not found in a database of existing threats. Therefore, your company can be at risk of being infected by such malware.
12.      Don't Use the Same Computer for Payment Processions and Internet Browsing
Consult your banks or card processors to make sure that all the most trusted tools and anti-fraud services are activated when you process payments online.
Even if your online transactions are secured, it's not recommended to use the same computer or laptop for payments and Internet surfing. You can put your financial credentials at risk of being hijacked, which can later lead to more severe consequences.
13.      Hire Qualified IT Support Team
Antivirus software is a commonly used tool that defends against most types of cyberattacks. Despite its overall efficiency, sometimes it's not enough to rely entirely on it.
By hiring a qualified IT support team, your small business gets ongoing protection by real people, who're able to detect even the most minor weakness in your network.
Besides, all the servers and systems will be monitored in real-time, so that you can feel safe and continue with developing your business, while professionals can complete the entire small business cyber security plan template mentioned above!
Speaking of that, many business people try to manage cybersecurity by themselves. However, cybersecurity is quite a comprehensive field that requires specific skills and knowledge to be managed successfully.
By paying a lot of attention to IT and cybersecurity, business owners often neglect their core business, which is not something they should do to reach their goal.
Secure Your Networks with the Best Small Business Cyber Security Consulting Firm
Handling cybersecurity tasks on your own can be a tough job, especially if your business is growing, and you need to do your best to reach your goal.
While you're working on your core business, Secure Networks will make sure all the IT and cybersecurity tasks are done efficiently and on time. Your IT environment will be monitored 24/7 to prevent any potential threat, and you can sleep peacefully knowing that your server and networks are more than secure.
Give us a call at 858.769.5393 and experience the best IT support San Diego offers to small and mid-size businesses.