2 Minutes Guide on How to Change Signature in Outlook (With Print Screens)
Email signatures, in this case Outlook, usually are the first impression of your business when having a business correspondence. Business phone, address, website and logo are visuals noticeable as soon as you receive or send a new email. Adding or updating signature in Outlook is a simple process and lines below will teach you how to quickly go through the process if you use Outlook in Windows (desktop version), Outlook on the web (Outlook.com - formerly Outlook Web App or OWA) and in Office 365.
How to Add or Change Email Signature in Outlook (Desktop Version)
NOTE: This guide will help you with following versions of Microsoft Outlook: 2019, 2016, 2013, 2010, and 2007. Keep in mind that older versions of most used e-mail client have a very similar user interface and you shouldn't have trouble with signatures in version 2003 and even 2000. Let's Create Email Signature Go to FILE and press OPTIONS.


On the left side press MAIL and then SIGNATURES (create or modify signatures for messages).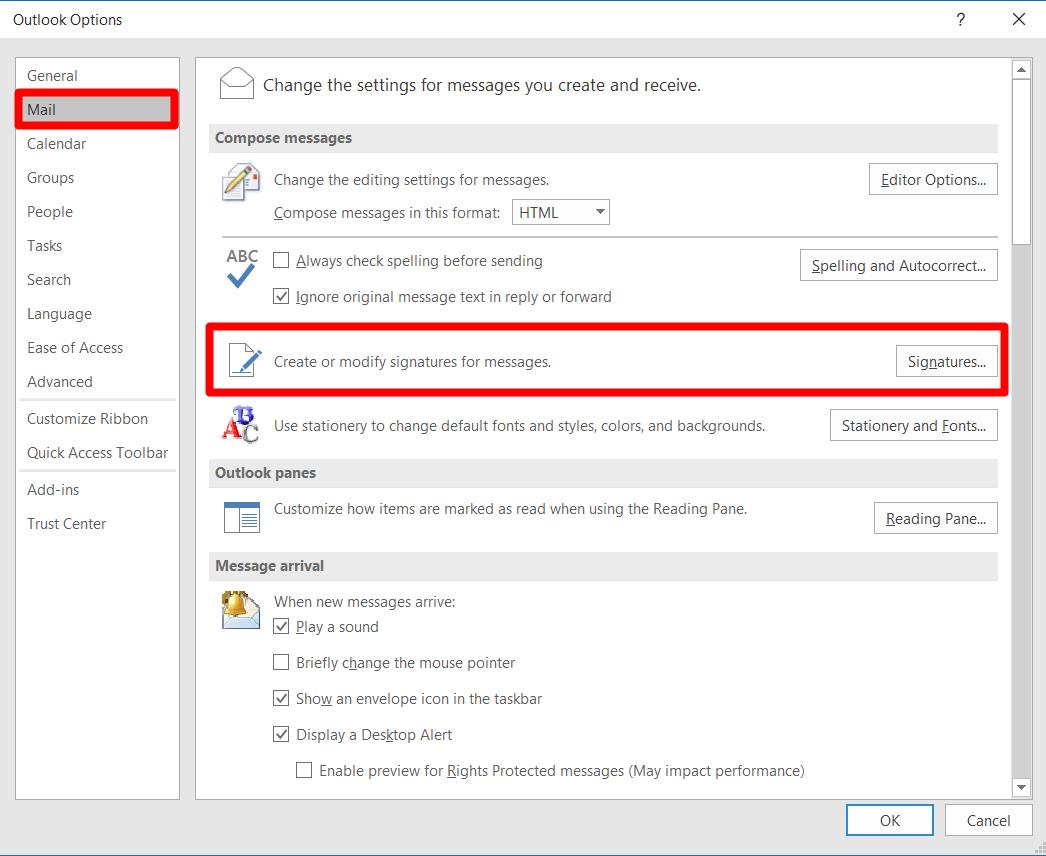 Click NEW button and give signature a name.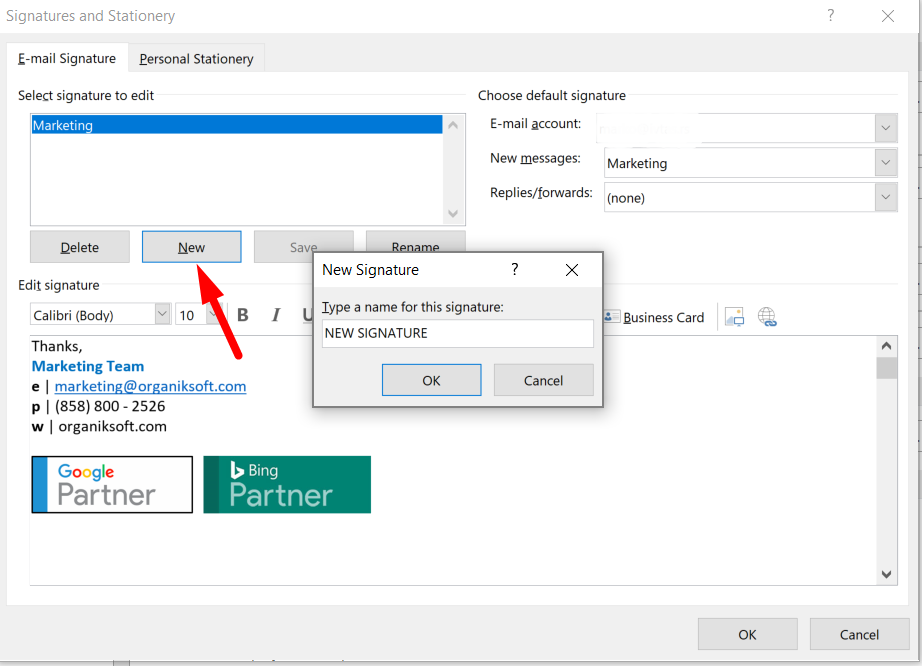 When the new window pops up, start typing. An email signature is here to personalize your messages, usually includes:
your name,
position,
business name,
address,
email,
website and
company logo.
Text editor here is like the one in Microsoft Word. You can choose the font, font size, bold, italic, underline, alignment and finally add links and images. To add email logo (image) or image of handwritten signature press button next to business card button. See image below. To insert the link (usually for email or website) press the anchor button. When you've made sure everything looks fine, save signature.
NOTE
:
Don't forget to add links or social media icons in the signature
. This is the easiest and fastest way to spread the word about your brand and engage with clients or customers.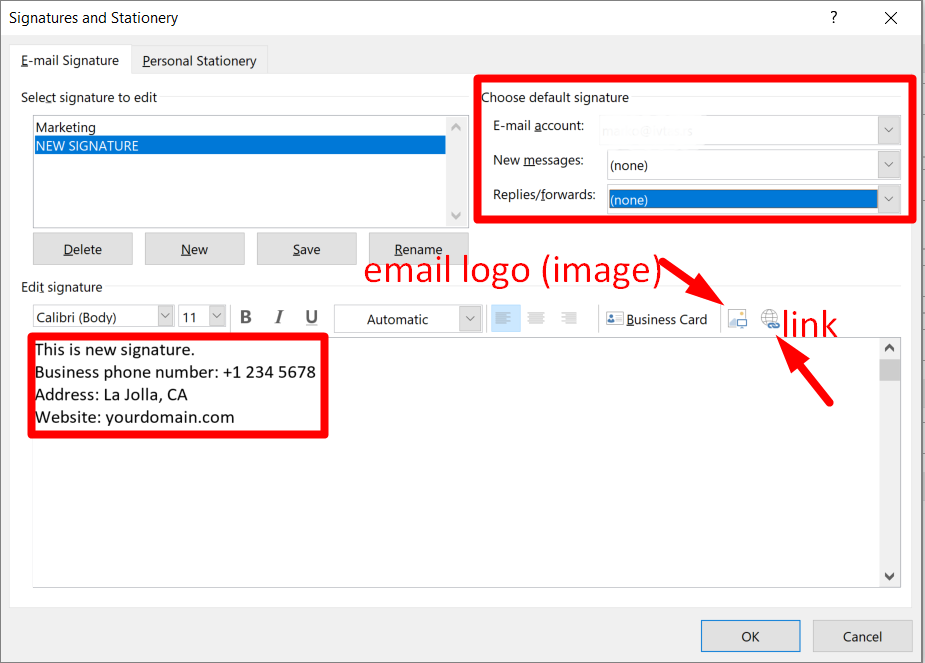 Choose Default Email Signature
When you are done with signature details, it's time to set a default signature. Business users often manage two or more email accounts; this is why you need to define signature for every account. First, choose email account from the drop down menu you want to use with the new signature. Remember, you can use different signatures for each account. If you want to add an email signature automatically, choose under NEW MESSAGES signature that you've created. If, on the other hand, you don't want to insert it in all new messages, choose none in this drop-down. If you want to include a signature in replies and forwards choose the same signature under REPLIES/FORWARDS drop-down menu. If no, select none. See image above.
Insert a Signature Manually
This option gives you the ability to add email signature manually, or just in case you need it, regardless it's a new email, reply or forward. Click NEW (Reply/Forward) to open the message. Click INSERT button, then SIGNATURE and choose the signature you've created.
To edit existing email signature in Outlook, go to FILE > OPTIONS > MAIL > SIGNATURES, and double click on signature you want to edit. After you are done with editing click OK.
How to Change Signature in Outlook 365
Go to
https://www.office.com/
and login with your business account. Choose Outlook from the apps list.

Once you are in Outlook, press small GEAR ICON on the right-hand side, scroll down and press VIEW ALL OUTLOOK SETTINGS.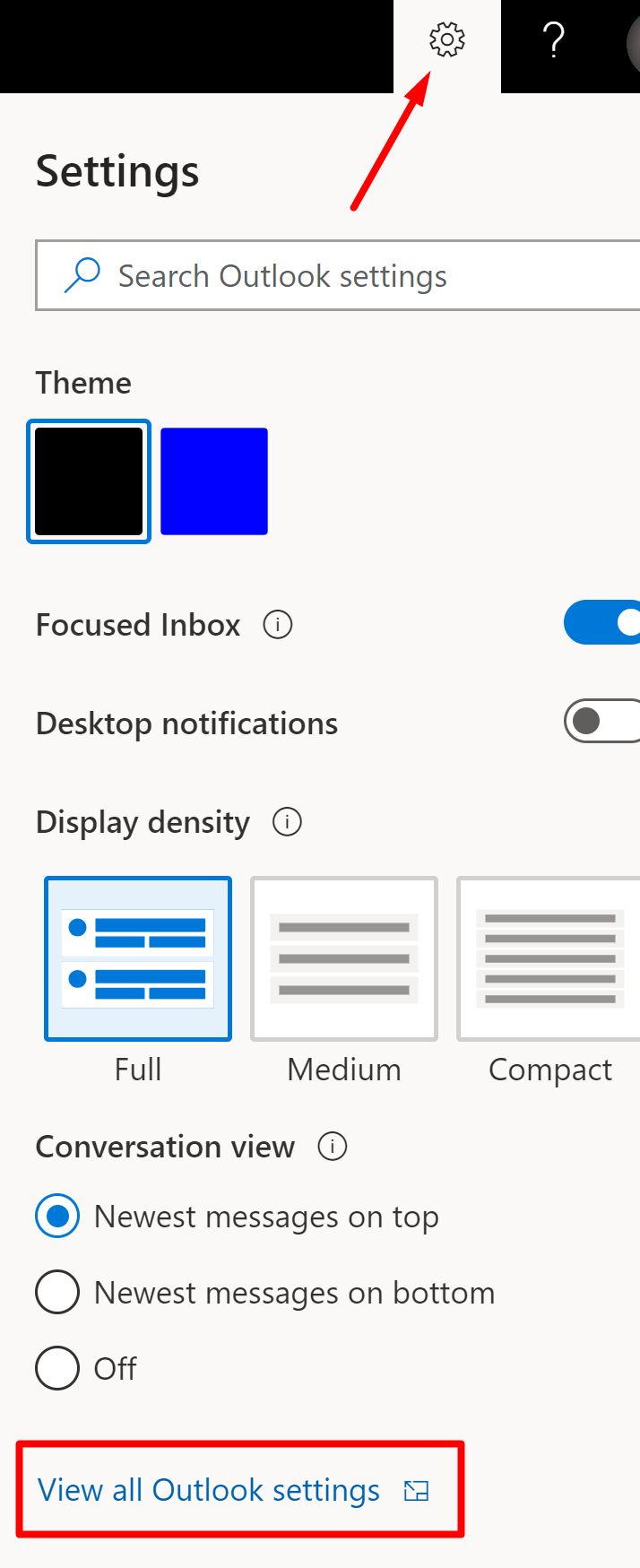 Click MAIL, then COMPOSE AND REPLY.

Add signature in Outlook 365 using a text editor. Format text, links, email logo, and check if you want to automatically include a signature in new messages, forwards and replies. Press SAVE. If you didn't check the option to include signature automatically, you'd have to do it manually. Press NEW MESSAGE, when the window pops in press THREE DOTS on the right side, see image below. Now press INSERT SIGNATURE, and it will show up in email body.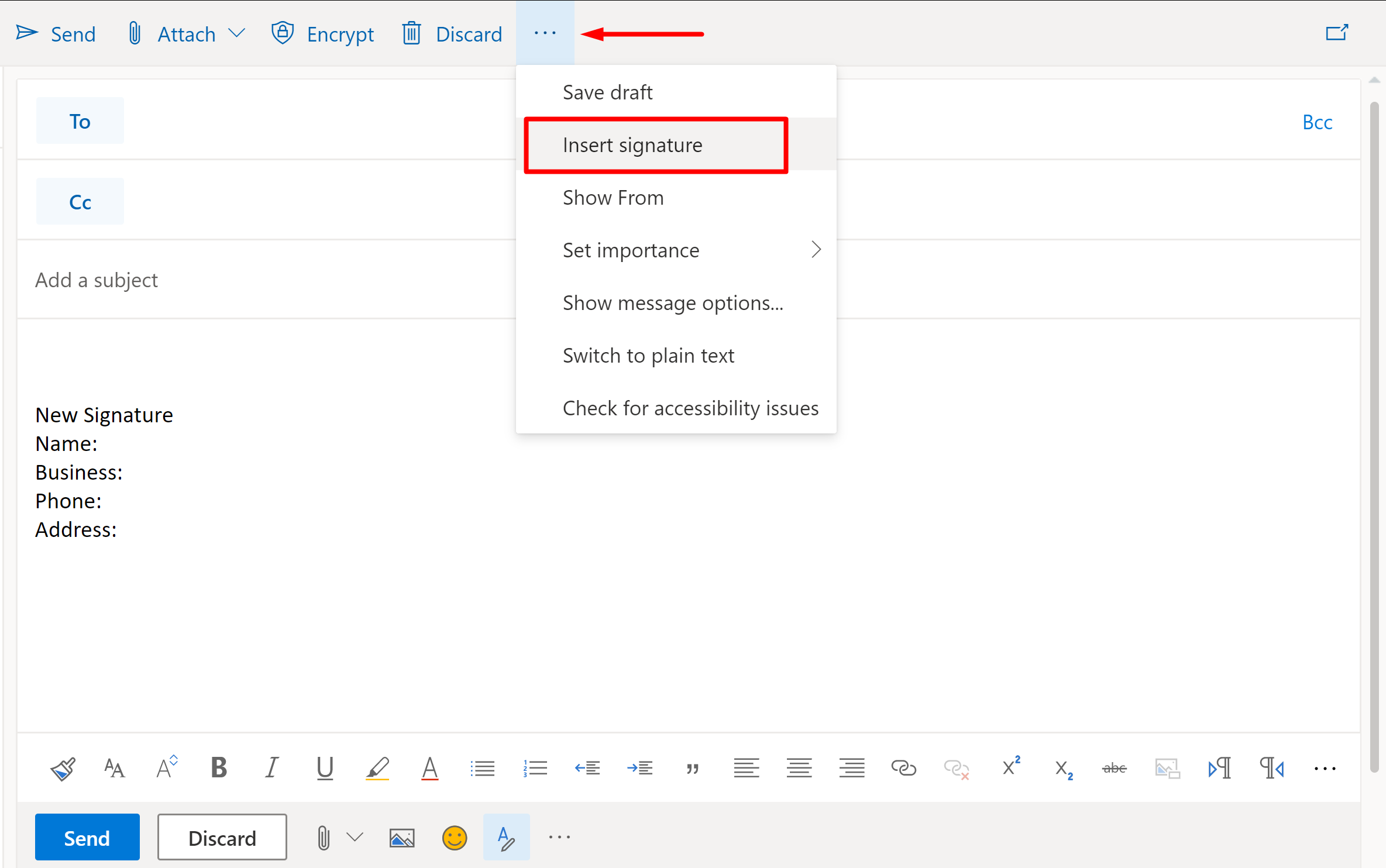 To change or add signature in Outlook on the web is practically the same as with Outlook 365. Go to https://outlook.live.com/owa/ and login with your account. Click GEAR ICON, scroll down to VIEW ALL OUTLOOK SETTINGS. Under SETTINGS section, find MAIL, and click COMPOSE AND REPLY to add a signature.
How to Save (Backup) Your Email Signatures?
When you are completely satisfied how your signature looks, you can save it and backup in Windows. This is an excellent feature if you want to use the same signature on a different computer. Signatures are located in Windows 10, 8 and 7 at C:\Users\\AppData\Roaming\Microsoft\Signatures Open Windows Explorer and copy the code from above to the address bar. Paste and modify code using your computer user name and hit Enter. Here you can see all Outlook signatures. Copy files to USB or send by email to use on another machine.

About the Author
If you run a small business and looking for reliable
IT Consulting San Diego
businesses needs, choose Secure Networks ITC. With vast experience and knowledge, we know how to create rock-solid IT infrastructure to new and existing small businesses. Visit
Secure Networks ITC
and learn why we are leading
San Diego IT services
provider since 2006.