When talking about Windows 10 security improvements, a well-planned security policy includes email accounts, network traffic, management servers, authentication mechanisms, and other external connections.
In smaller businesses without dedicated IT staff securing Windows 10 is crucial. Although Windows 10 is the most secure version of Windows we have ever used, sometimes it is just not enough. It is important to have a basic knowledge about available security features to keep unwanted software off your business computer.
We can show you how to make Windows 10 secure without compromising your device, all of that within a few minutes. Let us show you how.
1.      Update Windows 10 Regularly
This step is rather simple and does not require a high level of expertise. Windows 10 is designed to update automatically; you will only need an internet connection. All quality updates are cumulative, so you need to install the latest cumulative update, and your PC will be completely up-to-date.
The majority of Windows 10 updates are security patches and bug fixes. This level of Windows 10 protection will keep your operating system and software from vulnerabilities that a hacker can exploit.
You can always manually check the updates and choose when they are installed. To do that:
Click on the Start Menu button.
Choose Settings app.
Choose Updates & Security.
Click Check for Updates.
2.      Backup Your Data
Using a trusted cloud backup service should be a part of every carefully planned strategy of Win 10 security. You can also create an offline copy of your critical files on an external hard drive. You can rest easy knowing your files are safe and secure by following several simple steps:
Click on the Start Menu button.
Choose Settings app.
Select
Assign an external hard drive by selecting Add a drive.
This way, your data is protected against a hardware failure, theft of your device, or a malware attack.
Suppose you even need a recovery of the lost files, or you need to reset your copy of Windows. In that case, there is a solution in the form of the option in the Recovery settings. You need to go to the Start Menu > Update and Security > Settings > Recovery.
Another helpful tip is to encrypt portable storage devices, like MicroSD cards and USB flash drives, because they can easily get lost. Many programs for encryption use the password to decrypt the drive's content.
3.      Protect Your Hard Drive by Using Device Encryption (BitLocker)
Another layer of MS Windows security is undoubtedly device encryption. Using one of the most useful  Windows 10 security features makes it almost impossible for anyone to access your files. It is designed to protect your data by providing encryption for entire volumes.
It works by encoding your data with an extremely complicated cipher which can only be decoded by the computer that generated the encryption. Without the password you generated, all your data look like a random characters' string. To see if one of the most important Windows security settings is enabled, do the following:
Click on the Start Menu button.
Choose Settings app.
Click on Update & Security.
Then click on Device encryption.
Click Turn on.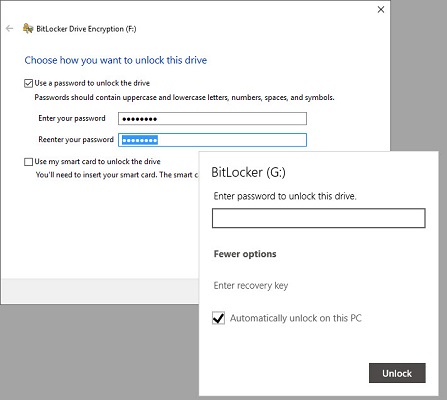 Although Windows Device Encryption is strong, users upgraded to Windows 10 Pro get access to the Bitlocker encryption tool. It includes a valuable dashboard function to change settings and encrypts all of the data on your drive. Just keep in mind to securely lock your security key away on both paper and USB storage.
4.      Use Secure Browser
Every browser offers some type of protection against phishing sites and malicious web scripts. Mozilla Firefox and Google Chrome have slightly better protection than Microsoft Edge. However, it is an enormous improvement over the Internet Explorer browser.
5.      User Account Management
When Windows PCs are not joined to the domain where domain administrators can authorize users or groups (and most small businesses are not), you can choose between 3 types of accounts:
Microsoft Accounts are free for consumers' use; allow syncing of data and settings across PCs and devices.
Local Accounts are the members of an Administrators group and can install and modify the system configuration. It uses credentials that are stored only on the device.
Azure Ad Accounts (Azure Active Directory Accounts) are associated with a custom domain and can be centrally managed. Basic Azure features are free, while additional features are available as paid upgrades.
Setting up separate user accounts (Local Accounts) for everyday needs is an ideal solution. Avoid using accounts with Administrator privileges unless it is required. We advise that you have one admin account that you use for installing new software or updates and another unprivileged account for everything else.
6.      Stalkerware and Adds Shutdown
In order to sell advertising, Windows tracks your locations and monitors your behavior. It creates an advertising ID for your user account, which is linked to your Microsoft account. Fortunately, it is possible to turn off the advertising ID with these steps:
Click on the Start Menu button.
Choose
Go to Privacy >
Under the "Change privacy options" section, toggle Off the following options:

"Let apps use advertising ID to make ads more interesting …"
"Let Windows track app launches to improve Start and search results."
"Show me suggested content in the Settings app."
7.      Disable the Windows Timeline (Activity History)
History feature called "Timeline" allows you to go back in time and resume your work activities. It gathers data and works very well, but sometimes it presents a security threat. Fortunately, to protect Windows 10, you can disable this feature.
Click on the Start Menu button.
Open
Click
Open Activity History.
Uncheck the "Let Windows collect my activities from this PC."
Toggle Microsoft account under "Show activities from accounts" to Off.
Finally, you need to click on the Clear option to clear your activity history.
This way, the Timeline will not be able to collect your data.

8.      Always Double-check Your Downloads
When thinking about how to secure Windows 10, being cautious can save you a lot of trouble. Researching the content and files you are accessing is crucial simply because many hackers hide malware in the form of seemingly legitimate downloads.
Taking extra time to check the download and secure Windows 10 is beneficial – it may be challenging to know if something is legitimate or not until you run it on your computer, but then it is usually too late. To ensure you do not download a virus, here are some simple advice to consider:
Use an antivirus to scan every file before you open it.
Research your file through trustworthy sites and forums or blogs.
Check the size of the file you are downloading; how big it should be using Google.
Look through the content of the zipped file before you open it.
9.      Turn On Windows Hello
One of the simplest Windows 10 security settings you need to change is to turn on Windows Hello. It is one of the easiest ways for small businesses to secure their Windows 10. This option enables users to unlock devices with facial recognition and fingerprint readers. This way, the user bypasses passwords that are more likely to be stolen or hacked.
10.      Use Two-factor Authentication (2FA)
Sometimes referred to as two-factor verification, it is an excellent way to add an extra level of protection to your small business user account(s). 2FA requires you to enter both a password and a second verification form to log into your password vault. The verification may be in the form of a face scan, USB stick, fingerprint, or temporary one-time password sent to your smartwatch or phone.

11.      Enable Windows Defender
You have probably heard of the Windows Defender Firewall. It is the best first layer of security and monitoring the overall health of your computer – you should take advantage of it by enabling antivirus protection. Here is how to do that:
Click on the Start Menu button, then type Control Panel.
Go to System and Security.
Click "Windows Defender Firewall," then click "Turn Windows Defender Firewall on or off" in the sidebar.
Click the button "Turn on Windows Defender Firewall" (under public and private network settings).
Tick the box that says, "Notify me when Windows Defender Firewall blocks a new app."
Does Windows 10 Come with a Firewall?
Well, yes. With this software, Microsoft ensured that their customers have some kind of protection from when they first booted up their computer. It does not cost at all, and it does not require taking any sort of action.
Is Windows Defender enough?
Although it represents the first line of defense, sometimes it is not enough. The best solution is to download an antivirus program to add another layer of protection.
How effective is Windows Defender?
Win 10 Firewall prevents unauthorized access from external connections, so it helps to protect your network from threats that could harm your computer. However, it does not cover the same breadth of products as 3rd party security companies do.
12.      Antivirus Software
Downloading antivirus software will prevent malware from finding its way to your small business PC. It is the last line of defense against malware. A good antivirus program will offer you some kind of backup protection like encrypted VPNs, 2FA password managers, parental control, disk drive optimization tools, and many others, all rolled up in a security suite.
Every program has something that sets it apart from the rest. With plenty of options out there, you only need to do your research and find the best antivirus that will fulfill the needs of your business.
Secure Networks ITC for Best Small Business Cybersecurity in San Diego
When thinking about security concerns Windows 10 has, and you face some challenges, try the professionals at Secure Networks ITC.
We have been partners with Microsoft, Avira and Bitdefender antivirus solutions for over 12 years and offer the best small business antivirus protection in San Diego. Do not wait until something happens; protect your business against cybersecurity threats and secure Windows 10 the best way possible.
Hackers prey on the unprepared, so do not be unprepared. Contact us at (858) 769-5393 and ensure your business computers, server, network infrastructure and well-being for years to come.