What is Microsoft GCC? Office and Azure for DoD Contractors
GCC High vs. GCC vs. Office 365 Commercial
Learn what is government community cloud is, what plans Microsoft offers for DoD suppliers, and what are differences between GCC high and commercial licenses.
With an increased risk of sophisticated cyber threats, government contractors and federal agencies are moving to dedicated cloud solutions to mitigate those risks and keep their valuable assets in a more secure space. One of the most secure platforms for governmental use is Microsoft 365 Government Community Cloud High (GCC High). Besides helping companies keep their digital assets safe and protected, Microsoft GCC High ensures contractors meet compliance goals (CMMC 2.0, DFARS, NIST, ITAR, FAR) and can continue to work with the Department of Defense (DoD) with peace of mind. By migrating their services and data to GCC Cloud, contractors may improve their workflow and cyber security in the long run. It's vital to understand that the safety of your IT infrastructure and the overall approach to safeguarding critical information influence your compliance process. Don't leave things to chance but make the right decision for your business.
Move Your Valuable Assets to Microsoft GCC with Secure Networks ITC
Don't miss the opportunity to migrate your servers and valuable data to one of the most secure cloud solutions out there – Microsoft Azure GCC. You can count on cybersecurity professionals from Secure Networks ITC to help you with the entire process and ensure you're a step closer to achieving the necessary compliance. Call us for a free consultation and learn more about the benefits of switching to Azure GCC High and Office 365 for government.
What is GCC High?
GCC High is designed for DoD and federal contractors that need to comply with strict cybersecurity frameworks – NIST 800-171, FedRAMP, or ITAR. Additionally, federal contractors handling CUI/CDI may also benefit from GCC High and its security features. GCC High has many of the same characteristics included in Microsoft 365 Commercial – Teams, SharePoint, Exchange Online, OneDrive for Business, and similar. However, a significant difference comes with the Teams configuration. Namely, Teams in GCC High doesn't include dial-in phone numbers, which affects the ability to enable calling and audio conferencing. Still, phone system and audio conferencing for GCC are delivered via Direct Routing. Besides Teams, differences between GCC High and Commercial are noticeable in several aspects – Exchange Online, File Sharing, Skype for Business Online, Identity, and Yammer.
Exchange Online
GCC High and DoD subscriptions do not support integrating on-premises IP-PBX systems with Exchange Online Unified Messaging. This feature would allow callers to leave a voice message to the users if the mailbox is connected to a Skype for Business account.
File Sharing
SharePoint and OneDrive provide various options for sharing files and folders within GCC High and DoD environments. Users will be able to share data only with persons using GCC High. However, non-GCC-High email addresses and accounts are not supported, and communication between them is not possible.
---
Skype for Business Online
Public Switched Telephone Network (PSTN) calling and conferencing services are currently unavailable in GCC High and DoD.
Identity & Yammer
Users are required to follow multi-factor authentication and use PIV and CAC cards to access their Office 365 Government accounts. As for Yammer, it is not available in the GCC High or DoD settings.
Here are some of the reasons why GCC High lacks some features compared to the commercial software version:
The federal approval process: Each feature and add-on must undergo rigorous testing in the DoD and GCC High clouds to ensure compliance and high levels of security.
Failure to comply: Some Microsoft 365 apps fail to comply with certain frameworks. It often happens with security and governance tools. While some tools are rebuilt in order to meet this requirement, apps like Yammer are completely excluded from the GCC solution.
Microsoft GCC Employee Background Check
Not everyone is eligible for Microsoft GCC support. An employee must meet different federal, state, and local government requirements to work on this platform. According to Microsoft, an employee must go through the following checks:
| | |
| --- | --- |
| US Citizenship | Verification of U.S. citizenship |
| Employment History Check | Verification of 7-year employment history |
| Education verification | Verification of highest degree attained. |
| Social Security Number (SSN) Search | Verification that the provided SSN is valid |
| Criminal History Check | A 7-year criminal record check for felony and misdemeanor offenses at the state, county, and local level and at the federal level |
| Office of Foreign Assets Control List (OFAC) | Validation against the Department of Treasury list of groups with whom US persons are not allowed to engage in trade or financial transactions |
| Bureau of Industry and Security List (BIS) | Validation against the Department of Commerce list of individuals and entities barred from engaging in export activities |
| Office of Defense Trade Controls Debarred Persons List (DDTC) | Validation against the Department of State list of individuals and entities barred from engaging in export activities related to the defense industry |
| Fingerprint Check | Fingerprint check against FBI databases |
| Department of Defense IT-2 | Staff requesting elevated permissions to customer data or privileged administrative access to Dept of Defense SRG L5 service capacities must pass Department of Defense IT-2 adjudication based on a successful OPM Tier 3 investigation |
GCC High vs. GCC vs. Office 365 Commercial
Microsoft offers three cloud solutions for government and DoD contractors – commercial, GCC, and GCC High. While the three platforms have some features in common, some critical features make them different from each other.
Users

Type

Datacenters

Support

Commercial

Any business or individuals

Commercial cloud

Datacenter locations are global

Microsoft support agents are global

GCC

Government/DoD contractors

GCC operates as a part of the Commercial cloud

Datacenters are located both inside and outside the USA

Microsoft support agents are global

GCC High

Government/DoD contractors handling CUI

GCC High operates as a part of a sovereign US government cloud

Datacenter locations are in the continental US (CONUS)

Microsoft supporting agents are screened US citizens
Why is Microsoft GCC High a Good Choice?
Microsoft Azure GCC High is suitable for government and DoD contractors of all sizes. Although the price per license is slightly higher than Commercial, the GCC plan allows you to become DFARS-compliant and maintain that compliance in the long run. Besides, it provides a safe space for your regular workflow, allowing you to establish a fruitful collaboration with the government and the DoD.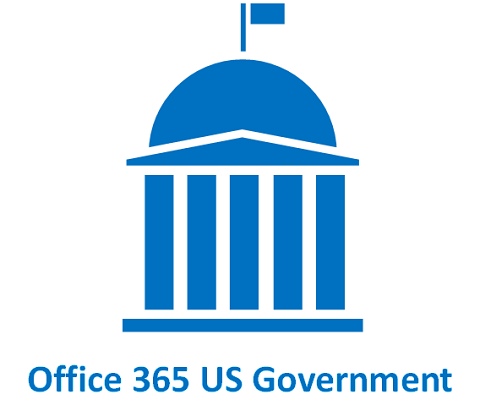 Microsoft Office 365 Government Pricing
Let's take a look at Microsoft Office 365 Government prices:
MS Office 365 Government F3

$4.00 user/month

2GB mailbox

MS Office 365 Government G1

$8.00 user/month

50GB mailbox

MS Office 365 Government G3

$20.00 user/month

100GB mailbox

MS Office 365 Government G5

$35.00 user/month

100GB mailbox
If you work with the US government, regardless of your collaboration with them, take a look at the reasons below to understand why Microsoft GCC High is the right choice for you:
Enhanced security: Since it meets most compliances' requirements, GCC High offers enhanced security levels to safeguard critical data.
Better collaboration: Contractors decide to move to GCC High because it allows for more seamless cooperation with subcontractors that also use GCC High.
ITAR/NOFORN Data: Contractors aren't allowed to store ITAR information on Commercial or GCC because, in that case, a non-US resident may access it while performing administrative activities. Such an incident could affect national security.
Where to Get Microsoft 365 Government?
With Secure Networks ITC by your side, you can rest assured that all your valuable assets will be safely moved to Microsoft 365 Azure. Our Microsoft-certified technicians can help you migrate to a more secure and compliant cloud-based infrastructure at an excellent price. Call us today at (858) 769-5393 to experience enhanced security and more flexibility!